Discover more from UB In 5
University at Buffalo football & women's and men's basketball. Everything you need to know to keep up with the MACtion. Not affiliated with UB, but I did go there for five semesters.
RACING TO CLEVELAND: WINS ONLY FOR UB BASKETBALL
PLUS: UB Football schedule released, and we got UMass!
Image from ubbulls.com
This week, both the UB men's and women's basketball teams clinched berths in the Mid-American Conference tournament, slated to run from March 9 through March 12 in Cleveland.
The men are now 112th in NCAA NET rankings; the women are 77th. Both teams are peaking at the right time, because both—barring a miracle or tragedy of some sort—will likely need to win their respective conference tournaments for a shot at the NCAA's big dance.
THE EYES OF THE COLLEGE BASKETBALL NATION TURN TOWARDS…BUFFALO
Image from niuhuskies.com
Mike LoPresti of NCAA.com opened his Feb. 23 column with a recap of the men's dramatic win over the RedHawks to start their two-game road trip:
Somewhere out there in the noise, Michigan must find peace and a way to survive a late season that is now on fast-forward. Four Big Ten games are coming soon for the Wolverines in under 200 hours, and they'd better win most of them.

But they're not alone. Just look at how COVID makeups have helped turn the late season into a frantic sprint, with little time to practice, or rest.

The game here (in Oxford, Ohio) Tuesday night had been won in the last four seconds. Buffalo claimed its seventh consecutive victory and had broken 80 for the sixth game in a row, beating Miami 86-84 on a Jeenathan Williams floater. This seemed a moment to celebrate for a team rushing into contention in the Mid-American Conference but there wasn't a lot of time for that. The Bulls would be on a bus the next morning for the 5 1/2-hour ride to Northern Illinois.

They'll play there on Thursday, then go home for a rematch on Saturday. That'll make six Mid-American Conference games in 12 days, four of them on the road. And the thing is, no team in the league is geographically close to Buffalo. So for the 17-8 Bulls, the wheel keeps going 'round.

"It is what it is," coach Jim Whitesell said, almost on his way out of the door. "Kind of like, next game's up, you go to play. In February, any conference game is hard to win. You better be able to do it on the road."

Buffalo, fourth place in the MAC but only two games back and a genuine threat in the league tournament, is lucky to have four seniors starting and only two players on the roster under the age of 20. "We have an older group," Whitesell said. "So they understand what it takes."
And, on the women's side, everyone seems to be writing about either Dyaisha Fair (the reigning MAC Player of the Week, making it a double-double for the Bulls with Josh Mballa claiming the honor among the MAC men) or Georgia Woolley (pictured below) lately.
Rightfully so.
Image from ubbulls.com
Fair is fourth in Division 1 in scoring with 23.7 points per game, trailing only Caitlin Clark of Iowa (27.1), Villanova's Maddy Siegrist (26.3), and Delaware's Jasmine Dickey (25.3).
From UBBulls.com:
Fair has started all 26 games for the Bulls this season, leading the way in scoring with 23.8 points per game while also adding 5.0 rebounds, 4.2 assists and 2.0 steals per game and a 2.04 assist-to-turnover ratio. She currently leads the MAC and ranks fourth in the nation in scoring, and also ranks in the top 20 in field goals made (209), three point field goals made (70), three point field goals made per game (2.7), free throws made (130) and final points (618). She has scored in double figures 25 times this season, 19 times with 20 or more points and six times with 30+ points. The Rochester, NY native was also named to the Dawn Staley Award Later Season Watch List earlier this month.
Fair was also picked by ESPN.com's Charlie Creme as the likely MAC Player of the Year over reigning POTY Cece Hooks of Ohio:
Still a volume scorer, Fair has gotten more efficient this season, shooting at the highest percentage of her career (39.4%), with no drop-off in her ability to create her own offense. And as the Bulls make a final push to catch Toledo for the top spot in the conference, Fair has taken her game to another level, averaging 30.6 points in Buffalo's past five games.

Top competition: Cece Hooks, Ohio Bobcats (23.0 PPG, 8.9 RPG, 2.8 SPG)

One of the best defensive players the MAC has ever seen, Hooks was the conference's Player of the Year last season.
We'd be remiss not to note that Hooks, America's sixth-leading scorer (22.5 points per game), was shut down by the Bulls in Wednesday's loss, held to 14 points on five-of-18 shooting (she did have seven boards, seven assists, and five steals). The legendary defender also saw the Buffalo backcourt of Fair and Woolley hang a combined 48 points and eight assists on the 'Cats in the loss.
Speaking of Woolley—she was the subject of not one but two local media features this past week, including the Jerry Sullivan treatment at WIVB.com and a Rachel Lenzi piece for The Buffalo News that goes deeper into the Australian connection to the UB women's basketball program.
Woolley, as regular readers know, isn't getting this shine simply because she's an Aussie—if that were the case, we'd be seeing write-ups on Bulls' reserve Casey Valenti-Paea.
Georgia's on area writers' minds because she's on a three-month scoring binge, jumping up to a three-way tie for seventh among NCAA D1 freshmen scorers (14.5 points per game, the same as Chicago State's Aaliyah Collins and UC-Irvine's Kayla Williams). Woolley is 206th nationally in scoring, and 12th in the MAC.
Similar styles clash at Kent State
The women have a tough one today at Kent State (1 p.m., ESPN3) as UB closes its slate with a two-game roadie to Ohio. From UBBulls.com:
The Golden Flashes are led offensively by Katie Shumate who is averaging 12.3 points and 3.8 rebounds per game. Nila Blackford (11.3 ppg, 9.3 rpg), Casey Santoro (11.0 ppg, 3.1 apg) and Lindsey Thall (11.0 ppg, 5.1 rpg) are also scoring in double figures. Kent State is 9-3 at home this season. The Golden Flashes are second in the MAC and rank 30th in the nation in three-point field goal percentage (35.6), while ranking in the top 35 nationally in three-point field goals made per game (8.2) and three-point field goals made (212). They have made eight or more triples 15 times this season. Kent State is fourth in the MAC in rebounding (38.5 rpg) and ranks 44th nationally with a +6.1 rebounding margin. They have tied or won the rebounding battle in 23 of 26 games this season.
It's a Spider Man meme game for the Bulls, who face a high-scoring, bombs-away style offense coupled with hardcore rebounders—just like Buffalo. UB is 13-4 in conference and tucked into second place, but a loss today would make the season-closer at Akron a battle for that number-two seed heading into the conference tournament.
Picking on the Huskies
Image from ubbulls.com
The men have Northern Illinois at home today (2 p.m., ESPN3), and a chance to fatten up on the Huskies one more time before facing two critical games to close the season: a Tuesday home game against Toledo (22-6, 14-3) and a road trip to Kent State (18-9, 13-4) on Friday (6 p.m., ESPNU).
The Rockets are back in first place, thanks to Ohio's 91-83 loss to fifth-place Akron (19-9, 12-6) last night. The Bobcats (23-6, 14-4) fell back into second.
It's a fine state of affairs for UT, who'd lost two of four and came within a couple of boneheaded screwups by Central Michigan in the final seconds of a 68-66 win on Feb. 19 of making it three of five.
The Golden Flashes have been absolute lightning for the past month, winning nine in a row and streaking into third place in the conference, percentage points ahead of fourth-place Buffalo. KSU's knocked out Toledo, Ohio, and Akron in that stretch—it's last loss, on Jan. 21, came against the Bulls.
But first, NIU. Quick notes from UBBulls.com:
The Bulls placed four in double figures on Thursday evening (79-68 win over NIU), led by Jeenathan Williams, who scored 28 points just one game after hitting the game-winner at Miami. Williams is now 10th in school history in scoring at 1,407 career points and is just seven points shy of ninth place, held by 2005 MAC Player of the Year Turner Battle (2001-05).

Senior Josh Mballa joined the 1,000 point club on Thursday evening, becoming the 26th player in school history and the fourth this season to do so.  Buffalo is one 16 schools with at least four active 1,000 point scorers and one of eight schools to have at least three players achieve it at one school.
A loss to Northern Illinois (NET ranking: 300) seems almost unthinkable, particularly at home—but the games are played for a reason, as the old cliche goes. Buffalo has absolutely fattened itself over the past month with victories over the dregs of MAC—its last two losses came against Toledo and Ohio on Jan. 25 and Jan. 28, respectively—and the Bulls haven't played an opponent with a NET ranking above 256 (Ball State) since.
There's no shame in that—you play who's on your schedule. All that winning, though, has led to these moments: massive showdowns against the league's best, followed by the gauntlet in Cleveland and, ideally, the biggest stage of all.
We're at the top of the roller coaster. It's going to get wild from here on out.
Enjoy today's game, everyone.
UB FOOTBALL SCHEDULE IS OUT, AND IT'S…FINE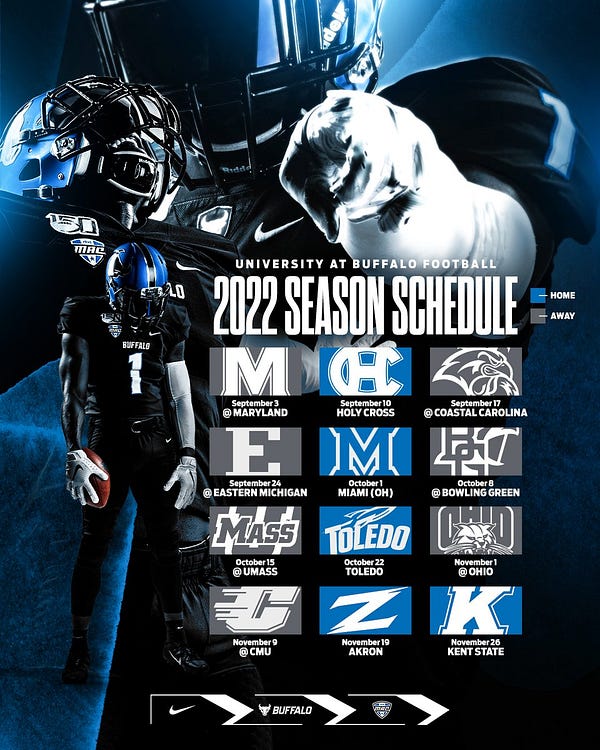 The "name game" to start the season is a little less interesting than years past, Coastal Carolina isn't a novelty anymore, and the other FBS non-conference game is against the worst team in America. On the other hand, the final five MAC games on the slate should be a wild ride which, if the Bulls can successfully navigate, would set them up well for the postseason.
Let's break it down:
Sept. 3: at Maryland. The Terps were 7-6 in 2021, including a 3-6 record in the Big Ten. We could talk ourselves into Buffalo winning this game, but we did the same last year against Nebraska and that did not work out. Still! Interesting matchup, and a big one for UB from a recruiting standpoint—the DMV is fertile territory.

Sept. 10: Holy Cross. The FCS sacrificial lamb for the home opener. The Crusaders were 10-3 in 2021 and boast seven players from New York State—including four from the Buffalo-Rochester area. It's kind of like UB's trip to Maryland for Holy Cross.

Sept. 17: at Coastal Carolina. There will be some turnover for the Chanticleers, but Grayson McCall is expected to return at quarterback, Reese White is back at running back, and there's no reason to think CCU will be anything less than an offensive juggernaut again.

Sept. 24: at Eastern Michigan. The Eagles finished 7-6 overall last season and 4-4 in the MAC, and Buffalo—who didn't face EMU in 2021—will make a trip to the gray-turfed "Factory" in Ypsilanti.

Oct. 1: Miami (Ohio). The RedHawks (6-6, 5-3) will serve as the opponent for the Bulls' MAC home opener. Miami was a bit of a surprise last season, pushing eventual MAC East winner Kent State until the last week of the season, but is facing some high-profile defections this off-season, including stalwart linebacker Ivan Pace, Jr., who transferred to Cincinnati, and four-star defensive end Kameron Butler, who's off to Virginia.

Oct. 8: at Bowling Green. A revenge game for Buffalo. The team was embarrassed at home by the Falcons (4-8, 2-6) in a brutal 56-44 loss in which BGSU scampered unimpeded for multiple touchdowns and capped the game with a fake kneel-down by quarterback Matt McDonald that went for six and made national highlight reels.

Oct. 15: at UMass. Possibly the worst team in the country last season—UConn and New Mexico State may have arguments of their own—this should be inked in as a W for UB.

Oct. 22: Toledo. The Rockets (7-6, 5-3) fired hot and cold last year, and finished the season with a 31-24 loss to Middle Tennessee State in an entertaining Bahamas Bowl. Toledo entered that game as 10.5-point favorites.

Nov. 1: at Ohio. After losing seven of its first eight games last season, the Bobcats (3-5, 3-9) actually had an outside shot at the MAC East title heading into the final weeks of the campaign. Whether that's a credit to Head Coach Tim Albin, who took over unexpectedly when longtime leader Frank Solich retired six weeks before the start of the season, or a black mark on a team that was expected to challenge for the conference title, may be sorted out by this year's performance.

Nov. 9: at Central Michigan. Very excited to see Buffalo match up with the Chippewas (9-4, 6-2) and quarterback Daniel Richardson. Not much was expected from CMU last season, and the team ended up winning a bowl game, a 24-21 victory over Washington State in the Sun Bowl—its first bowl victory in nine years.

Nov. 19: Akron. The Zips (2-10, 1-7) were beaten handily by UB last season, and, despite a new coach—former Oregon offensive coordinator Joe Moorhead—Akron should still remain solidly in rebuilding mode in 2022.

Nov. 26: Kent State. The Golden Flashes (7-6, 6-2) won the MAC East and went to the Famous Idaho Potato Bowl in 2021 but it was still a bit of a disappointment for KSU. The divisional title was in doubt until the final week of the season; a shot at the conference championship was upended by Northern Illinois in 41-23 beatdown; and Wyoming hung 52 points on the Flashes in a 14-point Potato Bowl loss. With any luck, however, this game will be a battle for the division championship—this time, for the Bulls.